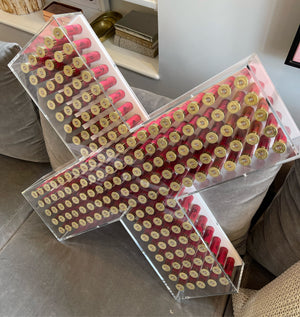 SHOTGUN X
Sale price Price £4,950.00 Regular price Unit price / per
Shotgun X is the sister piece to the circular Shotgun - they were inspired by the power and elegant design of the shotgun cartridge. A single cartridge is a powerful weapon but when grouped in this way it changes its narrative to become a metaphorical army of strength. 

The optical illusions which occur as you move around the piece create a stunning visual experience. The rich red and golden glow of the polished brass cartridges bring warmth and grandeur and are encapsulated in highly polished acrylic. 
This piece can be hung in two ways to create a plus or an X and has fixings for both. 
They can be hung along side their sister piece Shotgun to create - XO
Materials – Highly polished acrylic, Shotgun cartridges 
Dimensions
In + formation W 69cm x 69cm x D 9cm
27.1" x 27'1" x 3.54"
In x formation W62 x 62 x D 9
W 24.4" x 24.4" x D 3.54 "
Weight 12.7Kg approx

Custom orders and sizes are available, please contact me to discuss your requirements.
Product Care
It is important that you take good care of your piece to keep it in is best condition. It is recommended that you use a microfibre polishing cloth and or a non-abrasive paper towel. Most cleaning products contain ammonia which is an acid that can damage your piece and so we recommend using acrylic friendly products such as Vuplex or similar.
Do not place your piece on a rough surface as this can cause scratches. If a rubber foot pad should come off, they can be replaced with similar new ones found at most hardware shops or online.