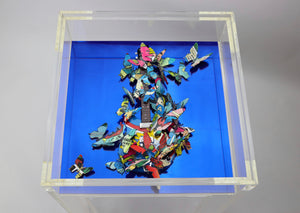 ROCK MY WORLD BLUE
Sale price Price £2,000.00 Regular price Unit price / per
Celebrating Rock 'n'Roll culture this mesmerising table houses a stunning sculpture by paper artist Patricia Mitchell.
The iconic union jack electric guitar symbolises the heritage of British music especially Rock'n' Roll, from punk rock to the brit pop era. The diamond dusted butterflies represent the glamour of the stage whilst the cartoon paper takes you back to the days of Beano, playing in the streets and royal celebrations.
The guitar floats on an electric blue mirror giving the piece great depth and movement. Hand crafted and mounted so everyone is totally unique a rare opportunity to collect a piece from our collaboration .
Custom pieces - colours and sizes are also available. 

Product Care
It is important that you take good care of your piece to keep it in is best condition. It is recommended that you use a microfibre polishing cloth and or a non-abrasive paper towel. Most cleaning products contain ammonia which is an acid that can damage your piece and so we recommend using acrylic friendly products such as Vuplex or similar.
Do not place your piece on a rough surface as this can cause scratches. If a rubber foot pad should come off, they can be replaced with similar new ones found at most hardware shops or online.