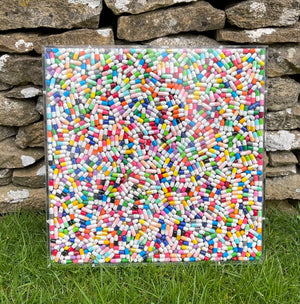 Happy Pill Wall Art
Sale price Price £945.00 Regular price Unit price / per
The Happy Pill Wall Art
Every pill encapsulates positivity and celebrates the concept of shared joy. The pills form a rainbow of colour creating a vibrant and textured landscape. The magic of this piece lies in the power of multiples. Upon closer inspection the landscape reveals itself to be thousands of single pills - which never fail to raise a smile the by-product is a joyful and amusing interaction. Each pill contains a tiny scroll to represent the sharing of messages of positivity.
PRE-ORDER now for delivery in 4 weeks.
Materials - Highly polished acrylic, Happy Pills
Fixings - There are two fixing holes at the back of the piece that are channelled in the frame so that it sits flush with the wall. 
Dimensions
L 40cm x W 40cm x H 4cm
L 15.7" x W 15.7" x H 1.6"
Weight
2.62kg approx 
Custom orders and sizes are available, please contact us to discuss your requirements.
Product Care
It is important that you take good care of your piece to keep it in is best condition. It is recommended that you use a microfibre polishing cloth and or a non-abrasive paper towel. Most cleaning products contain ammonia which is an acid that can damage your piece and so we recommend using acrylic friendly products such as Vuplex or similar.
Do not place your piece on a rough surface as this can cause scratches. If a rubber foot pad should come off, they can be replaced with similar new ones found at most hardware shops or online.