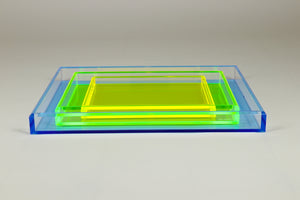 MEDIUM TRAY
Sale price Price £220.00 Regular price Unit price / per
These beautifully hand crafted acrylic trays are designed to bring a flash of
colour to the space, whether it be for your dressing table, bar cart, office or
coffee table it will be sure to add some magic. This tray is available in a
selection of colours - neon collection of blue, green, yellow, orange, pink. Our
monochrome palette offers it in Black, White and Clear.

Dimensions
L 40cm x W 30cm x H 4cm 
L 15.8" x W 11.8" x H 1.6" 
Product care

How to care for your Trays

To keep them looking their best they can be cleaned with an acrylic safe wipe
and then polished with a microfibre cloth. Any abrasive surface can damage and scratch the acrylic. Light scratches can generally be polished out using a microfibre cloth. Any product containing acid or ammonia could permanently damage the acrylic and direct heat should also be avoided. The furniture and accessories are not designed for long periods of our door use not left in direct sunlight. The acrylic should not be left in temperatures below 15 or above 32 degrees.The pieces are mounted on rubber feet to protect them but in the event they are dislodged they can easily be replaced.
Product Care
It is important that you take good care of your piece to keep it in is best condition. It is recommended that you use a microfibre polishing cloth and or a non-abrasive paper towel. Most cleaning products contain ammonia which is an acid that can damage your piece and so we recommend using acrylic friendly products such as Vuplex or similar.
Do not place your piece on a rough surface as this can cause scratches. If a rubber foot pad should come off, they can be replaced with similar new ones found at most hardware shops or online.